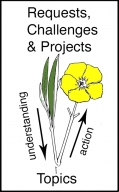 What is Visionary Society?
Visionary Society is a way to turn your ideas about how to make the world better into action, using new tools — Topics, Requests, Challenges and Projects.
Filled with practical tools to help you take action, Visionary Society always begins by exploring the cause of problems, using a few
principles
such as thoughtfulness and compassion.
Make change in the places you use and things you do, using your own insights and the support of our growing community!
How to get started
►
Add the Places
you use or that interest you.
Read more.
► Rate Places based on their true value. ► Support a
Request
, to show interest in making a place better.
Read more.
► Accept a
Challenge
, changing something in your own life.
Read more.
► Ask your Friends to join in by sharing Visionary Society with them.
Receive updates and track your participation on your Profile page
How to get more involved
Take the next step by creating your own content and getting more deeply involved with the community.
►
Explore a Topic that interests you.

Review Resources, Vote on Opinions, and decide on Action.

► Use our other tools for developing Visionary Society.

Share a Challenge with your friends or the community.
Take action on a Request using Invitation cards.
Take a Step in a Project.
Create a meeting to explore a Topic.

► Create a Request, Challenge, Project or Topic.

Use our simple forms to enter your idea. Then submit it to the community to develop and activate it.